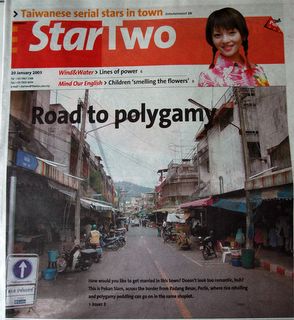 How would you like to get hitched in this town? Doesn't look too romantic, huh? This is Pekan Siam, across the border from Padang Besar where rice retailing and polygamy peddling can go in the same shoplot, ONG JU LIN investigates.

JUST across the border of Padang Besar is a small rectangular town made up of rows of shop houses which survive on a steady diet of Malaysian tourists. In the day, the streets are subdued.
The hot, lazy afternoons see its residents milling away the hours in the shadows of ugly cement shop blocks under the blazing sun.
At night, the town comes alive with bright neon lights, blaring music, and loud, garish posters promising a "Thai paradise", as one massage parlour advertises.
Like many border towns over on the Thailand side, Pekan Siam retained the comparative advantage of cheaper goods and laxer laws. Here, Thai rice, tour packages, full body massage and easy sex are offered side by side with instant marriages.
For as little as 2,000 baht (USD$50), a Muslim couple could get hitched with few questions asked.
"You don't need a marriage course; you don't need to seek the bride's parents' permission or to let your old wife know. All you need to know is how to lafaz (utter the intention to wed a woman)," said our Thai tour guide.
We were among a group of reporters who has just been taken over the border on a fact-finding tour sponsored by the Perlis state government. Following the fracas over Perlis' loosening of conditions for polygamy, Mentri Besar Datuk Seri Shahidan Kassim invited the press to see for themselves the "cowboy marriages" that had lured Malaysian couples over the border.
Putting the blame of southern Thailand's lack of law and enforcement as the source of the polygamy problems besetting his state, Shahidan had urged southern Thailand's Islamic religious authorities to clamp down on these unauthorised Thai kadis whom he branded as "polygamy peddlers".
Last year, Malaysian consul general to Songkhla Wan Jaafar Wan Mahamud revealed that out of 500 Malaysian men who go to Thailand to tie the knot, 102 were from Perlis. The figure is believed to be only a fraction of the actual number of illegal border marriages.
These clandestine marriages, which do not have the permission of Malaysia's syariah courts, are deemed illegal under the Islamic Family Act.
In Malaysia, Syariah Courts in most states place restrictions and conditions on the man before he is allowed to take a second (or third or fourth) wife.
The present wife is informed of her husband's intention and is usually called as witness to testify to the husband's capability as provider. Men wanting to escape that scrutiny, as well as for various other reasons only known to them, are the ones who would hide their polygamous marriage by contracting it in Thailand.
A host of problems have cropped out of these marriages – for example, when first wives get a whiff of their husband's polygamous marriage and when a husband reneges on his responsibilities towards the first family, leading to break-ups and the creation of single mothers who depend on state-sponsored welfare organisations.
A new couple who has gotten hitched illegally would also run into a host of problems. Without the authorisation of the Malaysian Syariah Court, their Thai marriage certificate is not recognised and if they have a child, the child is technically stateless.
Perlis Mufti Datuk Mat Jahaya Hussin said that these problems are what prompted Perlis to loosen its polygamy conditions. In short, the justification for the removal of restrictions on polygamy is to level the playing field, so to speak, with Thailand
The rice shop owner entertaining queries from reporters about his side business: marriage service. For an additional charge, he can also arrange a honeymoon package with a local tour operator.
But the announcement that really got women's groups incensed was Shahidan's invitation to prospective couples to get hitched in Perlis instead of Thailand. Critics wonder if it had anything at all to do with "Visit Perlis Year" this year.
The price of a certificate

Back at Pekan Siam, a grocery store selling different strains of rice has been identified as the target. The façade gives no indication of its other service of the clandestine nature. At the entrance, a notice board bears the words "Perniagaan Muslim" (Muslim business) in Malay and Jawi (Arabic script).
Just the day before, state Wanita Umno assistant secretary Azizah Salleh who was also part of the fact-finding team, had posed as a potential bride of a Muharis Mokhtar, a party colleague. In her 50s, Azizah is about 20 years older than Muharis.
Relating her experience, Azizah said the shop owners, who acted as the brokers, led them into a room inside the shop before explaining the process of getting their surat nikah (marriage
certificate).
"They even served us tea and kuih (cakes). They looked a bit puzzled, perhaps because of our age difference, but never asked us anything about why we were getting married.
"All that was needed was our ICs so they could put our names down. The fee was RM200," she said.
Determined to do our own investigations, we went into the shop pretending to buy rice. Then, we popped the question: "Do you offer marriage service here?"
"It can be done here," the female shop assistant replied.
Right here?
"Yes, you could get married inside the shop or you could go to the ustaz's home. It's just around the corner," she said.
This is the same ustaz (religious teacher) who is said to marry 100 couples a month.
"You can come back tomorrow because the ustaz is in Patani today. Anyway, the whole thing can be completed in half an hour," she added.
Later, she was joined by the shop owner. This time, he said the service fee was RM300. Also, a honeymoon package can be arranged with a local tour operator, for an additional charge.
(Couples can also opt for an easier way, albeit with a higher fee. Agents at a certain taxi stand at Padang Besar can arrange a package deal for prospective couples, inclusive of transportation to the mosque and back across the border – all within a day.)
To say the least, getting married behind a rice store is hardly something memorable to be cherished. Couples who resort to such an undertaking must be desperate.
And they are. Later, during the roundtable dialogue between Shahidan and southern Thailand religious authorities, Yala Islamic Committee (fatwa ulama) secretary Basir Mahmud said there had been "not a few cases where there was already the seed inside the woman's womb".
"Sometimes, we feel pressured into marrying the couple as they will be spending the night together in Thailand before going home. Marrying them as husband and wife before such a situation occurs would prevent them from sinning," he said.
In the dialogue, we were also told that any kadi not authorised by the Yala Islamic Committee had no right to solemnise marriages of foreign couples.
Songkhla province Islamic Committee president Abd Aziz Ismail said there were no sanctioned kadi in border areas such as Padang Besar (Pekan Siam) and Danok.
"If marriages were solemnised by these unauthorised persons, then they were conducted without the consent of the Songkhla religious authorities. In Songkhla, there are 25 kadis and their deputies who have been given tauliah (authority); in Yala, there are four. The lists (of authorised kadis) have been given to the Perlis Islamic Council."
A marriage by an authorised kadi would cost a fixed rate of 3,000baht (RM300), of which a registration fee of 1,400baht (RM140) would be handed to the province Islamic Committee, he said.
During the session, a visibly angry Shahidan shouted: "Send your men to the border and attack all those polygamy peddlers. It is for your own good name and the image of Islam in Thailand that you must do this."
But his outburst was mere histrionics. Thailand's state religion is Buddhism, and there is no enforcement arm to ensure Islamic laws of the province are obeyed.
"We can't get the police here to catch these culprits. Some (of these culprits) belong to syndicates. All we can do is to ask Malaysia to tell their people not to fall for these bogus kadis who are unable to issue the proper documents," said Aziz.
In either case, whether Malaysians contracted their marriages through a sanctioned or unsanctioned kadi, the marriage is still illegal without the permission of the state Islamic Council in Malaysia.
Failure to obtain permission beforehand constitutes an offence and the man is liable to a fine of up to RM1,000 or six months' jail. But usually he only gets a slap on the wrist, with fines of about RM300 and no jail sentence. The marriage eventually gets registered.
Women's group Sisters in Islam (SIS) had argued that the penalty hardly serves as deterrent and it is no wonder the number of illegally contracted marriages keeps on rising. Its legal officer Nora Murat said since she started the free legal advice clinic last March, she has been receiving about 25 polygamy-related cases every week.
"Relaxing laws to match Thailand's is not the answer. The solution is to make men respect the syariah courts and the laws. You can't allow them to run off to the border to escape the law. Enforce the RM1,000 fine and six months' jail sentence and see the difference that can make," she said.
In defending the move, Perlis Mufti Mat Jahaya said that hukum syarak (Islamic laws) had not stated the need for the first wife to be notified of her husband's second marriage, and those who criticise are at risk of terlajak cakap (going overboard) in opposing what is embedded in Islam as the rights of men to polygamy.
SIS had been called syirik (blasphemous) by Shahidan for saying that polygamy is not a man's right but a woman's privilege practised in circumstances of war and strife.
SIS, in its information booklet on Islam and Polygamy, pointed out that while hukum syarak is silent on the necessity to inform the present wife, it was also silent on the need to register with the syariah courts, or to have a wali (father or male relative of the bride who gives her away, or in their absence, an authorised figure) or the administrative purposes that evolved along with the system of delivering justice.
Says Nora: "The spirit of the syarak is justice. There is no common decency, much less justice in allowing men to take another wife without at least informing his present wife. The Quran talks about love and tenderness in the partnership of husband and wife. It says: "You are each other's garment." Marriage is about trust, and it is against the spirit of the Quran when women are treated so unjustly."
The following weeks would be a challenge to women, civil rights groups, and Women and Family Development Minister Datuk Sharizat Abdul Jalil, who has openly called the Perlis ruling a humiliation to women to make their voices heard.
The agreement to standardise syariah laws throughout the country has not touched on whether to relax or reinforce the conditions for polygamy, but it is learnt that the controversial and much-maligned Perlis ruling would be used as the yardstick.