Thai authorities want V1 banned, citing false claims by the drug manufacturer and dubious results, writes Ong Ju Lin.
FOR the second time, the Thai National Food Commission intends to pull the plug on the controversial V1 Immunitor, touted by its makers as a vaccine for AIDS. Two years ago, it withdrew its food supplement permit but reissued it a week later after a demonstration by 300 patients who were taking V1 at its manufacturing plant in Bangpakong, Chachoengsao province.
This time, the commission seemed determined to put V1 manufacturers out of business. Thai Food and Drug Administration secretary-general Dr Supachai Khunaratanaphruk said the manufacturers could face a maximum penalty of a 30,000 baht (about RM3,000) fine and three years in prison for making false claims.
He said the FDA has decided to revoke the manufacturing and sales licences of the V1, V2, V3 and V4 Immunitors as they were "sub-standard products whose effectiveness as a cure for HIV/AIDS had been exaggerated".
The manufacturers have been given 15 days to answer to the charges – that V1 manufacturers have misled the public with its claims that V1 is a cure for AIDS, that the manufacturing plant in Bangpakong was operating without a valid FDA licence, and that the food supplement failed to meet the Thai-language requirements on its packaging.
"The commission's decision was made in the interest of consumers. This food additive does not possess the benefits or qualities that have been advertised," Dr Supachai was quoted by the Bangkok Post on April 25.
V1 manufacturers, however, are not going down without a fight. V1 maker Vitchai Jirathitikal said V1 has never claimed that it was a cure for AIDS, or put out an advertisement to promote V1.
"The alleged advertisement is an interview that was conducted by a reporter from a local Thai paper. The final printed story is false and does not reflect my viewpoint.
"There is a fine distinction between 'cure' and 'treatment' but in the Thai language there is none. We have always said that more research is needed but what we have found is that blood tests of some patients have shown that the virus is no longer detectable in the blood," he said.
Vitchai also defended the company saying that the V1 manufacturing plant in Bangpakong Industrial park, Chachoengsao province, has been inspected by the FDA and found to be suitable for manufacturing V products.
The factory layout blueprint has been approved and the company has an approval letter from the FDA indicating that the good manufacturing practice (GMP) licence will be issued shortly, he said.
He said it was strange that the commission to investigate the V1 has not even questioned any of the V1 manufacturers or independent scientists currently researching V1 before announcing the decision to revoke the licences. This, despite the fact that numerous clinical trials of V1, research into its efficacy and safety in AIDS patients, and studies on its potential as a therapeutic and prophylactic (preventive) vaccine have been published in peer-reviewed international journals such as Vaccine, HIV Clinical Trials and Electronic Journal of Biotechnology.
"The only study that was ever done by the government on V1 was a half-hearted attempt to measure its efficacy conducted on 40 patients in June last year," Vitchai said.
The study in June last year was a one-off blood test on patients who have been taking V1. There were no tests before and after to compare the changes in viral load count or changes experienced by patients after taking V1.
From that study, former Centre of Communicable Diseases director-general Dr Samsong Rakpao made a public announcement that V1 was "useless" when in fact the result of the study said something quite different. It found that V1 was safe and recommended for more research conforming to international standards in order to evaluate its efficacy.
A week later, Dr Samsong was reassigned to non-active duty for allegedly taking kickbacks on a government mosquito control programme.
Dr Supachai when contacted refused to comment on the studies that had been done on V1, saying that any statements given would have legal implications. He had earlier said that V1 only had a food supplement permit and did not contain any medicinal properties.
When asked if the commission had reviewed the studies published in peer reviewed journals, one of which was a study that showed that 56.6% of end stage AIDS patients who took V1 survived past two months when none did in the placebo group, Dr Vallop Thaineau, the chief public officer in the Public Health Ministry, said he was not convinced.
"Well, the journals can publish what they want, I personally don't buy it. The ministry is worried that the people are losing time in taking this food supplement instead of the antivirals which is the standard treatment," he said in a phone interview.
Earlier, he had publicly denounced the study, accusing Occupational and Environmental Medicine Association of Thailand president Dr Orupan Metadilogkul, who was the prime investigator in the research, of misleading people into believing that V1 could cure AIDS.
In a Thai daily, Dr Vallop, who is the Public Health Ministry permanent secretary, was reported to have said that Dr Orupan's study would cause AIDS patients to die earlier as they would be lured into taking V1 instead of antivirals. Dr Orupan has taken him to task for this statement by suing him, along with 10 other top-level public officials and AIDS experts, for libel.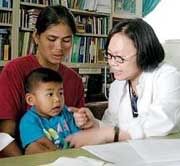 Dr. Orupan Metadilogkul checking on a mother and son who were no longer HIV positive after taking the V1 pill for more than a year.
"He (Vallop) said that I was cheating the public with my studies. He accused without basis that my studies were done poorly. I am still waiting for him to point out which part of my study was not done properly," said Dr Orupan who won the International Award on Occupational Health and Safety from the American Public Health Association (APHA) in 2001, and the Debbie Cole Award from the Silicon Valley Toxics Coalition (in the United States) last year.
The feisty epidemiologist, who is well known in Thailand for leading group suits against multinationals for arsenic and lead poisoning, is now under investigation by a special committee headed by the ministry's Centre of Disease Control for a paper she presented last year.
In her study, she detailed the results of 22 cases of serodeconversion, a medical term describing patients, who have been taking V1, whose blood tests had changed from a HIV-positive status to negative.
"I have been put under investigation for almost two months but I haven't been called to answer any charges. In fact, I don't even know what the charge is. They need to announce what they have found in their investigation because my professional reputation is at stake," she said.
Head of the investigating committee of the Centre of Communicable Diseases Dr Charal Trimvuthipont, when contacted, could not provide any answers. "We will call her for investigation soon," he said, without wanting to comment on the charges.
In the 22-case study which she presented in February last year, the viral load, CD4 and CD8 counts (lymphocyte cells showing immunity levels) and HIV status were recorded from patients who had been taking V1 from two weeks to 14 months.
The study showed that the blood of 22 patients – eight females and 14 males, age from two to 58 years old – had indeed turned negative for HIV. The patients also reported weight gain and are enjoying normal health.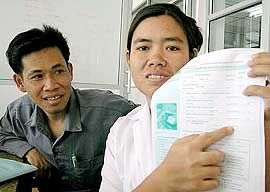 Warakul, with husband Tares Sangsakul, is HIV-negative after taking V1. She has made a petition to the King of Thailand and the Thai Prime Minister in support of V1.
Dr Orupan insisted it was the government's duty to do a mass clinical trial on the V1 since she has laid the groundwork with several promising results, including one on the efficacy of V1 on terminally ill AIDS patients.
"V1 is a product of the Thai people. The government has a duty to investigate the vaccine scientifically as Thailand is facing a pandemic with one million people infected with HIV," she said. Instead, the government has opted to put in millions of dollars for the world's largest HIV vaccine trial on a failed vaccine developed by a foreign multinational company, Dr Orupan pointed out.
Amidst criticism, Thailand announced last year at the Barcelona International AIDS Conference that it will conduct the biggest vaccine trial of the AIDSVAX vaccine involving 16,000 volunteers, although a trial of a similar "prime-boost" vaccine in the United States had been cancelled. The vaccine trial is the 11th one to be conducted in Thailand.
The interim results from a phase-two trial of this "prime-boost" vaccine, developed by pharmaceutical company VaxGen, that was conducted in the United States were so disappointing as to cause the US National Institutes of Health to abandon its plans for large-scale testing. But Dr Vallop, at the conference, had said that this "has in no way altered Thailand's commitment" to forge ahead.
Said Dr Orupan: "I'm worried for the 16,000 Thai volunteers who will be used as guinea pigs on a vaccine that Americans won't allow to be tested on themselves."
V1 Immunitor scientific director Dr Aldar Bourinbaiar alleged that vested interests stood to lose if V1 was a success, among them drug firms and multinational pharmaceuticals that work closely with the government. During the stadium handouts of V1 pills in 2001, sales of antiretrovirals dropped as much as 50%, he said.
While drug firms sell anti-retroviral drugs costing 10,000 to 30,000 baht (about RM1,000 to RM3,000) a month, V1 only costs a fraction of the price at 900 baht (RM90) for a month's supply.
He also said that the ministry's working closely with multinational pharmaceutical company GlaxoSmithKline in AIDS research was a conflict of interest as it was a profit-making entity.
Recently, the government received grants from the Global Fund for AIDS, Tuberculosis and Malaria to buy antiretrovirals for AIDS and extend free treatment for AIDS patients amounting to 8.5bil baht (RM850mil) over five years. The ministry's state enterprise headed by Dr Vallop, the Government Pharmaceutical Organisation (GPO) which sells subsidised antivirals, stand to benefit from the grants.
Meanwhile, former and current AIDS patients on V1 are taking matters into their own hands. Warakul Sangsakul, 32, one of the patients who had become HIV-negative after taking V1, has made a petition to the Thai Prime Minister and the King of Thailand in support of V1 and Dr Orupan's study.
She is also in the process of collecting signatures of those infected people who, like her, had become HIV-negative after taking V1.
"I have come to support Dr Orupan and V1 because I am one of the patients who have become negative after taking V1," she said when met at the palace while she was submitting her petition recently.
"Five years ago, when my husband and I started to get full-blown AIDS, we were very ill and we had contemplated suicide. We felt hopelessness because it is a disease without cure. But after taking V1, we can lead normal lives now."
Last year, patients on V1 collected over 2,500 signatures to urge UN Secretary General Kofi Annan to make V1 part of a comprehensive AIDS prevention therapy programme initiated by the United Nations.
Last Tuesday, some 250 patients gathered in front of the Parliament building to make their voices heard, lead by Warakul's husband, Tares Sangsakul, who is president of the V1 Patients Association.
The group, which claimed to have some 10,000 supporters, was set up last year to support and give voice to people living with HIV/AIDS who are taking V1 pills. "We want to urge the government to recognise V1 as a medicine to fight AIDS. If V1's licence is revoked, the people of Thailand would stand to lose.
"There are one million infected people in Thailand and more than 55,000 who die every year from AIDS. I would not be standing here if it was not for V1," said Tares.
Published in The Star on May 5, 2003 (www.thestar.com.my)